Welcome to another one of our weekly roundups of new slot releases. As per usual, this is a presentation of the most interesting titles that went live during this past week. Before we get started, however, there are a few other things worth mentioning as well in case you missed some of the news on our site.
We've added a new casino brand to our list of accredited online casinos. It might not seem like a big deal, but we're quite picky and new quality casinos don't come along very often these days. The name of the casino might not be the most creative, but Casino Planet is definitely worth a visit if you want to try your luck on a new casino as they've got a good welcome bonus and a nice collection of games to offer.
The biggest news, however, was the announcement of Big Time Gaming's upcoming Star Clusters slot. The 98% score became the subject of much debate and, according to some, a bit controversial. That's understandable though as we only give such high scores on very rare occasions. Our main focus during the review was the introduction of a brand new game engine known as Megaclusters which could potentially revolutionize the way grid slots are played, much in the same way Megaways forever changed payline slots. Some are in doubt, we are not.
Alright, enough about that. There's a lot to go through as we've got some really compelling titles to inspect. First out is the latest instalement in ELK Studios' Gold series. Let's go.
Black River Gold (ELK Studios)
Swedish studio ELK must have struck gold with their Gold slots as they've decided to release a 4th instalement in the series. Headlined by adventurer Kane, the journey started in Ecuador Gold back in February 2019, continuing through Tahiti in Tahiti Gold, and making a stop in the American south to wade through the murky waters of Louisiana in Voodoo Gold. Driven by his addiction to gold, Kane's exotic trek has now led him to North America in Black River Gold where we get to experience some gun-slinging action.
Ok, to be honest it is starting to get a little bit old and we're starting to worry that ELK won't stop until Kane has visited literally every country in the world. What's next? Kane riding elks in Norway? The good thing about these slots is that, unlike most other ELK offerings, they usually come with decent potential. Moreover, a large number of paylines also has a tendency to go down well with players so the concept is pretty much guaranteed to have some success. On its own, Black River Gold is definitely not a bad game and it appears to be doing well, but as part of the series it's a bit underwhelming since there's nothing really new to explore.
Play Black River Gold at Casumo
---
Hellcatraz (Relax Gaming)
When we first laid our eyes on this slot, it was love at first sight. It's not the first time we've seen a pixelated slot though, with the most popular one being Thunderkick's Flame Busters slot released a couple of years ago. Hellcatraz, from innovative provider Relax Gaming, might not be quite as good in our opinion, but it's also difficult to compare since they're totally different games. Whatever the case, don't let the cute graphics fool you. This retro video game homage is a volatile beast that can be far more frustrating than anything you ever experienced playing on your Amiga 500.
Having said that, Hellcatraz does come with two modes to play – Mixed Mode with a high volatility rating, and Lockdown Mode which comes with a very high volatility rating. This Alcatraz inspired slot may look like a cluster pays slot at first, but it's not. Played using a 6×6 grid, there are 46,656 paylines for punters to form wins on. And wins it certainly can generate as there is a maximum potential of 51,840 times your stake involved here.
---
Agent Destiny (Play'n GO)
A week without a new Play'n GO slot is almost unheard of. Sure, it's a bit of a hit and miss story with these guys, but overall the quality is surprisingly high given the extreme production rate. It might have been a while since they introduced a real killer and they're not really breaking any boundaries as of late, but knowing what they're capable of, new Play'n GO games are always high priority for us.
Their last release, Ring of Odin, was well received by the casino community and became one of the most played slots in its first week going live. By the looks of it, Agent Destiny is off to a good start as well. Inspired by the Silver Age of Comic Books, this 5-reel, 20-payline Spy-themed slot has a lot in common with Mission Cash from the same developer, but is slightly more volatile and offers a higher default RTP. Agent Destiny comes bundled with Linked Reels, Mega Symbols and a Free Spins round where Linked Reels are in play on every spin. Get on a roll and you can pocket up to 5,000 times your stake.
---
Atlantis (Red Tiger)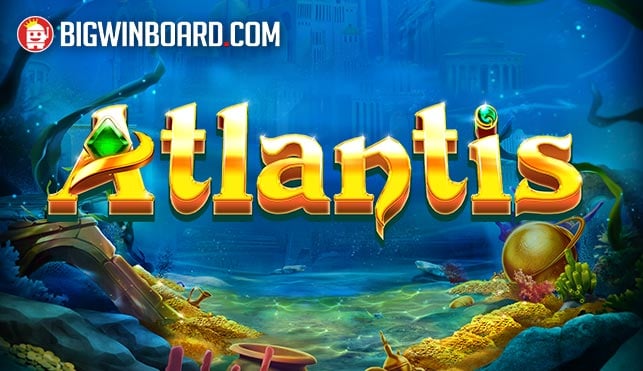 As much as we like Red Tiger, they have been struggling a bit to come up with a hit. For whatever reason, they have settled on churning out low potential, low RTP slots with awkward reel setups – Atlantis more or less continues on that tradition. Audio-visually, Atlantis is undoubtedly a well crafted slot, but the 5×4, 30-payline combo feels old and tired and there's very little freshness to the game since the production is far too similar to every other Red Tiger slot – the sounds it makes, the graphics, and even the way the slot behaves in general. It's as if the developers are afraid to break out of their comfort zone.
On the positive side, the 5,202 times your stake potential is decent, and the Gold Spins bonus does offer some thrill if you finally do manage to trigger it. It's just that the road to get there isn't all that fun to be perfectly honest. Admittedly, we were a bit divided on this one. Half of the panel thought it was ok whilst the other half couldn't wait to close it down and move on to the next game. No one, however, thought it was great.